Judith C. Ricker, CPM®, CHA
President of Courtland-Dane Management Group, Inc Judith C. Ricker ran full service hotel and property management firms for 15 years, before she and her professional partners founded Courtland-Dane Management Group in 1995. She is a Certified Property Manager and Certified Hotel Administrator and has been active in hotel and lodging management, as well as commercial and residential management her entire career. Ms. Ricker is licensed as a Real Estate Broker in California.

Ms. Ricker acts as a Receiver for the California Superior Court in the several counties, and is frequently called upon to serve as Expert Witness in litigation involving real estate property management disputes. She is an adjunct faculty member at Santa Barbara City College teaching property management.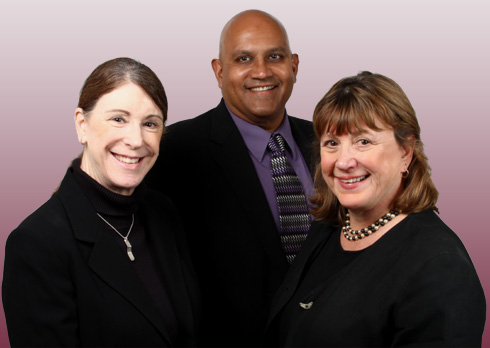 Christine A. Bagley
Senior Vice President - Hotels for Courtland-Dane Management Group, Christine A. (Chris) Bagley began her property management career in 1980. and served as a property manager and Vice President of Operations, for several large firms. In 1996 Ms. Bagley became a partner in Courtland-Dane. Her management experience and expertise include hotels, as well as commercial and multi-family rental projects.
Ms. Bagley was a member of the IREM national faculty, served on the governing council and on various national committees. She also has over ten years experience as a Certified Hotel Administrator. She now serves as the CFO on the Board of Directors for The Mark C.O.A.
R. B. Pershadsingh, CPM®
R. B. (Bob) Pershadsingh the principal of affiliated firm, Realty Dynamic, Inc. has over 30 years of real estate management, sales, and entrepreneurial experience. He is licensed in California as both a Real Estate Broker and General Contractor and possesses the creative ability to visualize a property's potential, conceive a design, and then work with the architect and consultants through completion and occupancy. Having served as Senior Vice President and Chief Financial Officer for a major Real Estate Syndication firm, he has personally managed and disposed of over 125 commercial and multi-tenant residential properties. In a concerted effort to maintain the highest level of service for clients, Bob personally constructs custom contract teams from his pool of time-tested independent contractors to meet the unique needs of each engagement.
Judith C. Ricker (right), R. B. Pershadsingh (center), Christine A. Bagley (left)